Save Time and Money with the UL-Listed Electronic All-Purpose Contractor Box

Being "made from scratch" is a sign of quality in restaurant kitchens and at family dinner tables. It shows that someone assembled ingredients with care and precision to create a meal greater than the sum of its parts.
However, assembling a lighting control from scratch doesn't necessarily equate to a superior final product. On the job site, every second counts, and the time and effort spent on building a custom solution can often be better spent.
More importantly, many installers who use UL-listed components to create their custom lighting control solutions don't realize that the final assembled product is not technically UL Approved, according to UL. 
To help streamline installations and promote code compliance, Intermatic created the Electronic All-Purpose Contractor Box. The time-saving control offers everything contractors need to get projects off the ground in a ready-made, UL-listed solution.
Custom Build vs. an All-in-One Solution
Building a lighting control with a la carte components takes time. It requires installers to wrangle an enclosure, time clock, contactor, terminal strip, and other components. This takes away from other work activities and can lead to inconsistencies, especially if there are issues sourcing parts.
Moreover, while individual components may be UL-listed and include warranties, the final assembled solution not actually be UL recognized as those individual components may not have been tested to work together as a system. If there's an issue down the road, the end user (or installer) is on the hook for handling any maintenance or repairs. 
On the other hand, an all-in-one solution like the ETCB28253PCR takes the guesswork out of assembly and provides the added benefit of a two-year warranty. Installers need only to mount the box, punch the necessary knockouts, and make their connections. This can save 30 minutes or more for each installation.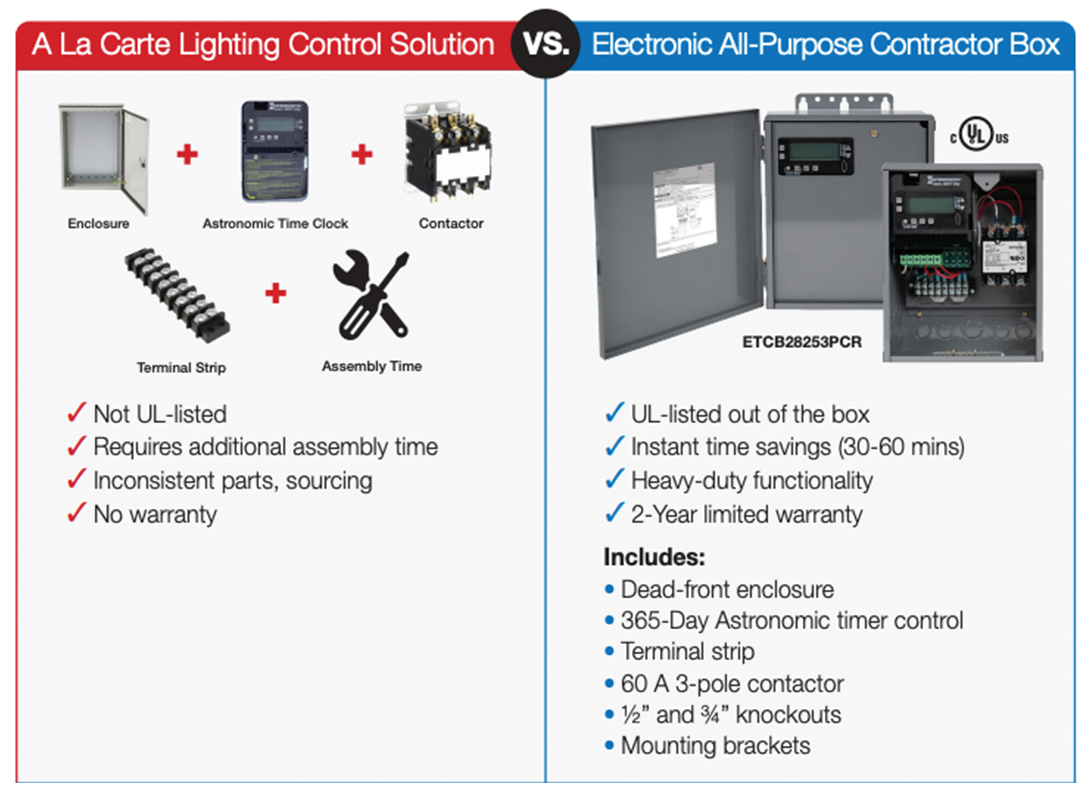 What's Inside the Box?
Each Electronic All-Purpose Contractor Box includes a dead-front enclosure, 365-day Astronomic timer control, terminal strip, and a 60 A 3-Pole contactor. The UL-listed solution also provides ½" and ¾" knockouts.
Together, these components deliver a robust lighting control solution that's ideal for commercial and retail applications, such as exterior lighting, electrical pumps, parking lot lighting, and general lighting control needs.
To learn more about the Electronic All-Purpose Contractor Box, contact your local Intermatic representative today!