How to Choose the Right In-Wall Time Switch for Your Next Project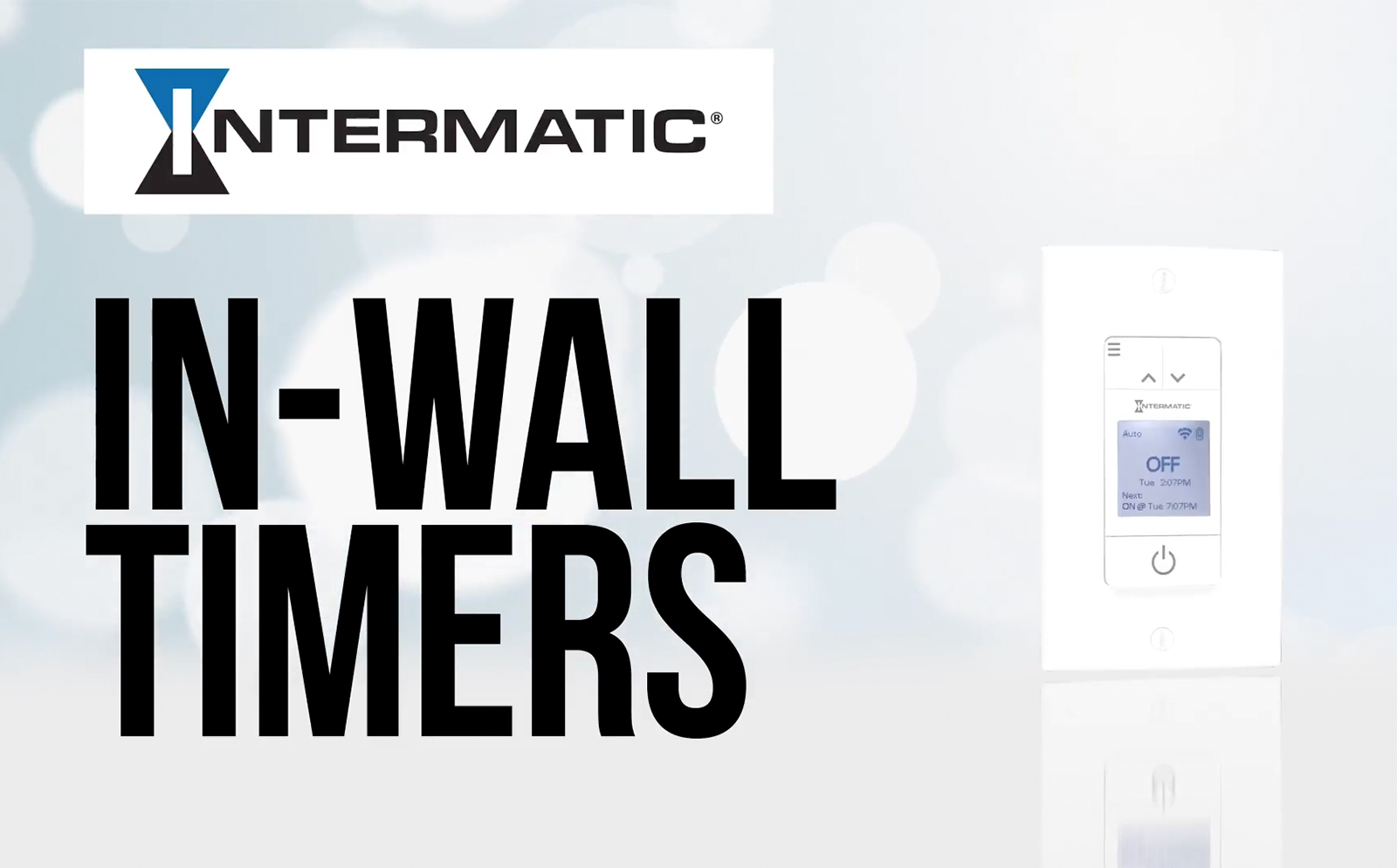 When it comes to selecting an in-wall time switch, there's no shortage of options. From simple mechanical countdown timers to Wi-Fi enabled switches, the assortment of styles, built-in features and scheduling systems can be a lot to sift through, even for seasoned electrical contractors and homeowners.
One highly versatile in-wall control is the 7-day in-wall time switch. These dependable switches allow users to create daily schedules for specific lighting and load control needs. They're right at home in residential applications like controlling hallway lights, coach lights and landscape lights, as well as limited commercial applications.
Consider these three digital Intermatic 7-Day In-Wall Programmable Timers for your next big project.
Good – ST01 In-Wall Timer
The simple-to-program ST01 In-Wall Timer packs loads of features into a small, cost-effective package. Homeowners can schedule up to 40 ON/OFF events each week while taking advantage of convenient features like automatic Daylight Saving Time adjustment and a built-in Astronomic (dusk/dawn) scheduling option.
ST01 Timers are compatible with LED, CFL, Fluorescent and Incandescent lighting fixtures, making them an excellent option for applications with multiple load types. Moreover, no neutral is required for installation, which allows installers to use the device as a retrofit solution and on new construction projects.
Choose the ST01 for no-hassle scheduling with loads of up to 15 A, 1HP and AC or DC loads.
Better – EI600 Heavy Duty In-Wall Timer
Much like the ST01, our EI600 Series In-Wall Timer offers simple, consistent scheduling with loads of handy features. No neutral is required for installation, and homeowners can take advantage of the same Astronomic and automatic Daylight Saving Time benefits.
The EI600 Series raises the bar with a 20 A resistive rating. It can control up to a 1 HP motor and be used with both AC and DC power sources.  The quick-to-install control is ideal for residential lighting applications, pumps, fans and more.
Best – Ascend® Smart In-Wall Smart Switch
At the front of the pack, the Wi-Fi enabled Ascend Smart bridges the gap between standard 7-day digital timers and complex smart home controls.

Ascend's unique standalone design delivers a variety of smart features, including mobile access and voice integration, all without requiring a smart home hub. It's the perfect choice for consumers looking to bring technology into their homes but don't want the hassle or financial burden of a complicated smart home system. Homeowners will enjoy basic features, such as automatic Daylight Saving Time adjustment and Dusk to Dawn scheduling, as well as upgrades like integration with Amazon Alexa and Google Assistant, remote scheduling options and a helpful LCD screen on the device.
Better still, installers can fully configure Ascend Smart with or without a Wi-Fi connection, making it ideal for new construction and retrofit projects. Contractor-friendly features, including an option to share schedule templates via text or email, help streamline installations and minimize nuisance maintenance calls. Ascend Smart is Title 20 compliant and requires a neutral for installation.
Need help deciding which in-wall time switch is right for your project? Don't hesitate to connect with your local Intermatic representative or our helpful and knowledgeable Technical Support team to learn more about our entire portfolio of in-wall controls.